Thanks to
Ima on (and off) the Bima
for
this week's HH compilation.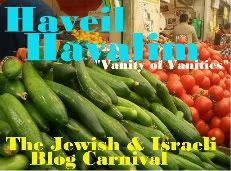 As usual, I will not be having turkey this year (see sidebar) and in fact I won't even be home... I have an in-service on Thursday morning in Be'er Sheva, followed by class that evening, in Jerusalem.  
But I will be taking time that evening to thank G-d for the drop in price of gasoline.
Keep the balance,
ALN